Integration with QuickBooks Online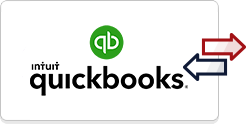 Please fill in this simple form below to let us know that you are interested in seamless DataLink Cloud connector for QuickBooks Online.
DataLink Cloud allows for the most complete automated synchronization between almost any eCommerce website and versions of QuickBooks Online. We provide an easily manageable, stable and reliable cloud connector for online sales and a seamless integration. DataLink Cloud allows download sales (orders, invoices, sales receipts), update stock quantities, synchronize products and manage customer accounts between your Online QuickBooks and eCommerce website.